3 Micro-Steps You Can Take Now to Start the New Year Off Right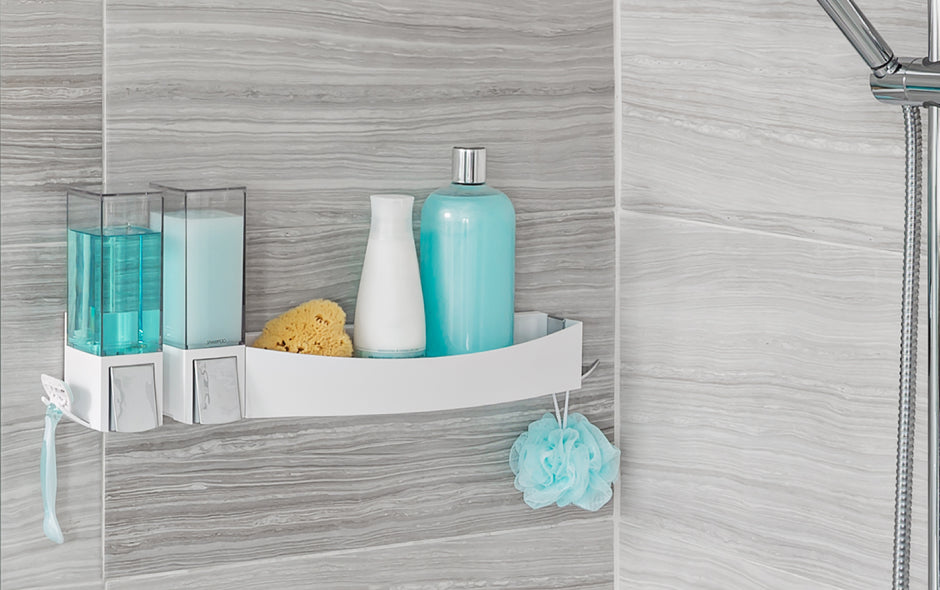 As we rapidly approach New Year's Eve, it's only natural to daydream about transforming into a better version of ourselves in 2023. But, as many of us know firsthand, New Year's resolutions don't always have the strongest staying power. While motivation plays a role, it's typically a lack of planning that derails our well-intentioned goals. For those of us that are particularly prone to giving up on our resolutions (or goals in general), the key is to start small and build your momentum from there. With that in mind, we're sharing a few products that will help you take the first micro-step toward your macro-goals.
Your Micro-Step for Better Organization: Let's assume one of your New Year's resolutions is to be more organized. Your first micro-step will be to organize the product graveyard, or as it's more commonly known the shower. With multiple family members, countless products, and a lack of storage space, the shower is the perfect environment for disorganization. Unfortunately, when we begin our days surrounded by clutter, our brains become overwhelmed from the get-go, making the rest of the day harder to manage. So, let's organize our showers and start our days off right.
Our Clever Double Dispenser + Shower Shelf is an all-in-one organization solution that offers a beautiful clean design with an innovative twist. With two dispensers (for your favorite shampoo and conditioner) and a convertible shower shelf/basket, you can conveniently store all your shower essentials in one place. This model even comes with 6 storage hooks for your family's collection of razors, loofas, and shower toys. Still in need of a bit more space? We've got you covered. Our Bath Boutique Corner Basket can be installed at your kids' height, ensuring safe and easy access to all their favorite products. Together, these two organizational powerhouses will eliminate your shower clutter, so you can start your days with a clean body and clear mind.
Your Micro-Step for Staying Healthy: It seems like everyone is getting sick right now and that's not the energy we want to bring into the new year. So, if your resolutions include staying active and healthy, pick up a Touchless Soap & Sanitizer Dispenser. Its sensor-activated technology allows you to hygienically cleanse (or sanitize) your hands without touching a single button. Whether mounted on the wall or strategically placed on the counter in high-traffic areas, this little guy will keep those pesky germs out of your home. Call it overkill if you want, but we'll be proudly displaying one in every room of our homes for the duration of this nasty cold and flu season. After all, there aren't many goals you can smash while you're bedridden with a cold.
Your Micro-Step for More Free Time: Now if you have kids, you know just how quickly those mountains of empty toilet rolls pile up and how they somehow never get replenished without your help. While we may not be able to convince your kids that they are entirely capable of restocking the toilet paper (and placing it properly back on the holder), we can reduce how frequently you have to restock it. Our Twist Toilet Tissue Reserve impressively stores up to four jumbo rolls of toilet paper, so you can spend less time restocking. Once you combine a few time-saving micro-steps like this, you'll be well on your way to carving out the time you need to achieve your bigger goals.
While some New Year's resolutions require an entire lifestyle overhaul, those are typically the ones that get abandoned the quickest. When you start small, it feels less daunting and makes it easier to build the momentum and confidence needed to go after the big ones. So, although organizing your shower may seem minuscule in the grand scheme of things, it can be the first (achievable) micro-step you take on the path to a new you.  Happy New Year, friends!