4 Kitchen Design Trends Worth Replicating in Your Bathroom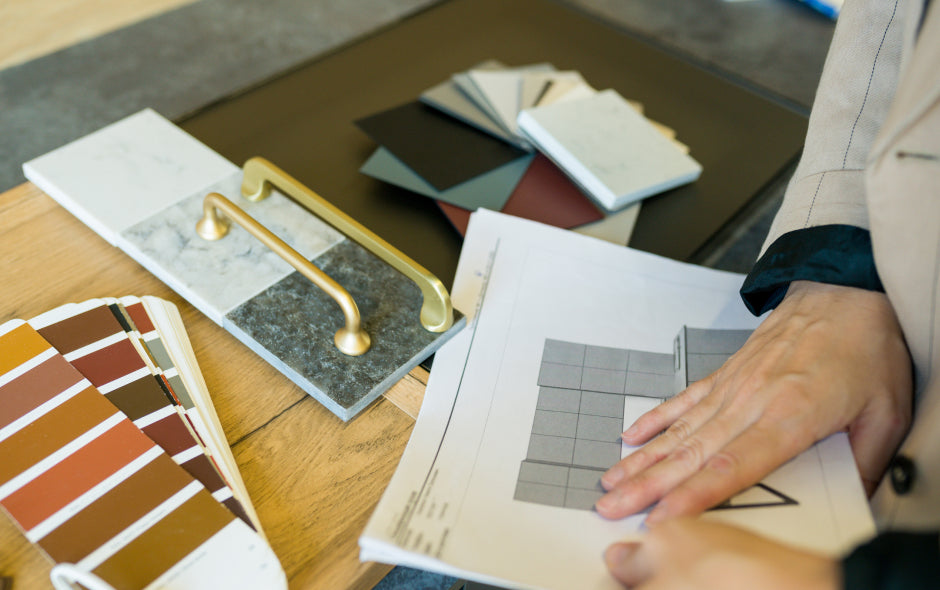 Do you feel like you're at a stalemate when it comes to designing your bathroom? Perhaps you don't know exactly what you want, but you do know you want something that's a bit outside the norm. Well, what if instead of searching Pinterest for bathroom inspiration, you searched for kitchen inspiration instead? While we'll admit that kitchens are vastly different than bathrooms, they do share a few characteristics like cabinetry, countertops, backsplash, and hardware. Because of these similarities, it's actually quite simple to replicate many kitchen trends in your bathroom. So, before you give up on a unique bathroom design in favor of something safe, allow yourself to be inspired by these kitchen design trends.
Colorful Cabinetry: While whitewashed kitchens and bathrooms have become the norm (and rightfully so), they can look a bit one-dimensional. That's why interior designers have leaned into colored cabinetry for added warmth and dimension. To contrast with white upper cabinetry and countertops, we've seen kitchen islands in colors like navy blue, sage green, and matte grey. However, since bathrooms have less cabinetry and lighting, we recommend trying out this trend with a softer touch. Vanities in pastel teal and pink pair beautifully with gold accents to create the character your bathroom has been lacking. It may sound a bit out there at first, but we're confident that a quick peruse on Pinterest will have you converting to colored cabinetry in two seconds flat.
Mixed Metals: When it comes to designer rules, we often think we need to stick with one finish to create a unified space, but that tends to produce a builder-grade vibe. Playing with two different finishes in your bathroom will create more of a custom feel, so don't be afraid to mix and match. To help us get more comfortable with mixing finishes, we reference tried and true fashion rules. In fashion, everyone knows black is a basic that goes with everything and the same goes for fixtures. You can easily combine chrome or gold finishes with black accents as long as you stick with one of the two. Playing with too many finishes in a small space can start to feel a bit too eclectic. If you're more of a risk taker, emulate modern jewelry trends by combining brushed nickel and gold. Regardless of which finishes you prefer, mixing different metals will instantly enhance your design and create a custom look without the accompanying cost.
Seamless Backsplash: To contrast with white kitchen cabinetry, designers are taking bold countertops to new heights with seamless backsplash integration. One of the more popular variations of this trend utilizes white marble with stark black veining and although we love it for bathrooms too, we have an even better suggestion. Imagine a chunky floating vanity wrapped in white marble with swirls of grey and blue. Now imagine seamlessly bringing that same marble up the wall as your splash guard — talk about a custom look! The best part about replicating this trend in your bathroom is that you'll need significantly less material so you can really splurge and make a statement!
Accessorizing with Artwork: Understandably, your kitchen and bathroom likely aren't your first choice when deciding where to hang artwork, but maybe they should be. Whether you prefer to hang your art or simply lean it against the wall, layering in a few key pieces can make a massive impact. But the caveat is to select pieces that you wouldn't typically find in your bathroom. So, rather than selecting a generic floral print, opt for vintage pieces for a more sophisticated feel.
Even if these kitchen trends aren't your cup of tea, we hope we've inspired you to think outside the box. Who knows, maybe your next bathroom design will be inspired by your home office or backyard. The only rule is, there are no rules — so do what you want and make your bathroom uniquely your own.