5 Better Living Products That Simplify Life with Roommates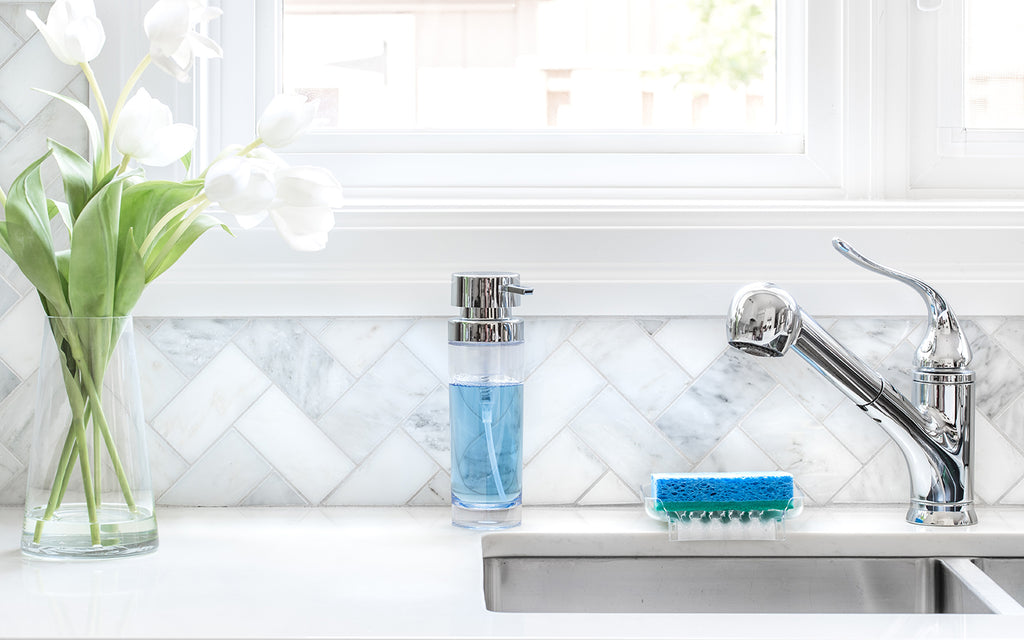 After over a year of semi-remote and remote learning, this month marked the long-awaited return to school. University students were particularly eager to head back to campus after spending an extended and unplanned hiatus in their childhood homes. While there are obvious benefits of moving out of Mom and Dad's house, moving back to campus comes with its own set of challenges, namely living with roommates. Whether you're lucky enough to live with just one or navigating life with two or three, successful cohabitation relies on healthy communication and easy organization. Unfortunately, we aren't technically qualified to offer communication advice, but we do know how to organize a bathroom to make living with others a breeze. So, grab your fresh new notepad and take some notes because these five products are about to change the roommate bathroom game for the better.


HiRISE 3 Standing Shower Caddy: Nothing screams dorm living quite like a shower caddy, but you won't have to carry this one with you. For students who've graduated to off-campus living, the HiRISE 3 Standing Shower Caddy is the perfect organizational solution for your multi-person shower. Its freestanding design comes equipped with three adjustable shelves, two convenient hooks, and non-slip feet, making it renter and roommate friendly! Plus, this model comes with inverted bottle holders so you can get every last drop out of your shampoo and conditioner bottles — which is a major plus when you're on a student budget.


2) ARIES 3 Tier Shower Caddy: If your rental has a shower-tub combo rather than a standalone shower, don't worry, we've still got you covered! Our ARIES 3 Tier Shower Caddy securely hangs over any showerhead and provides substantial storage for all of your shower necessities. This model also comes with integrated hangers to conveniently store and hang dry bathroom essentials like loofas and facecloths. It's the perfect space-saving solution that will keep even the messiest roommates organized (at least in the shower).
CLARA Foaming Soap Dispenser (Large): When you start living with roommates, the money you spend on essentials like hand soap quite literally goes right down the drain. Enter, the CLARA Foaming Soap Dispenser (large). This model holds up to 250 ml of liquid, but thanks to its foaming technology you won't need half as much soap to fill it up. Simply combine 20% soap (yes only 20%) and 60% water and this handy gadget will create a luxurious foam that goes the distance. With all the money you'll be saving on soap, you might just be able to keep up your daily Starbucks habit after all — well at least for the first semester.
OVO Toilet Caddy: When it comes to toilet paper, you never want to be left with an empty roll. So, if you live with roommates, you're going to want to invest in a toilet paper caddy to ensure you always have a few emergency toilet paper rolls on hand. Our OVO Toilet Caddy holds two rolls (while dispensing another) and even comes with a tray for your smartphone — because let's be honest, our phones come with us everywhere these days. To make this system seamless, we recommend implementing a roommate agreement with an appropriate punishment for those who don't restock! Trust us, you'll need it.
TOUCHLESS XL Soap & Sanitizer Dispenser 18 oz: Nothing ruins the excitement of back-to-school faster than a nasty cold or flu. Unfortunately, after a year of lockdowns and limited social interactions, your immune system might not be able to fight off germs like it once could. To protect yourself and your entire household from germs, set up our TOUCHLESS XL Soap & Sanitizer Dispenser at the front door to kill those pesky germs before they make themselves at home.

While moving out of your parents' home may have been a long time coming, their absence will undoubtedly coincide with an increase in mess and clutter. Luckily, with the right products and cooperation from your roommates, you can make the transition a bit smoother (and cleaner).