6 Design Tips to Make A Small Bathroom Feel Larger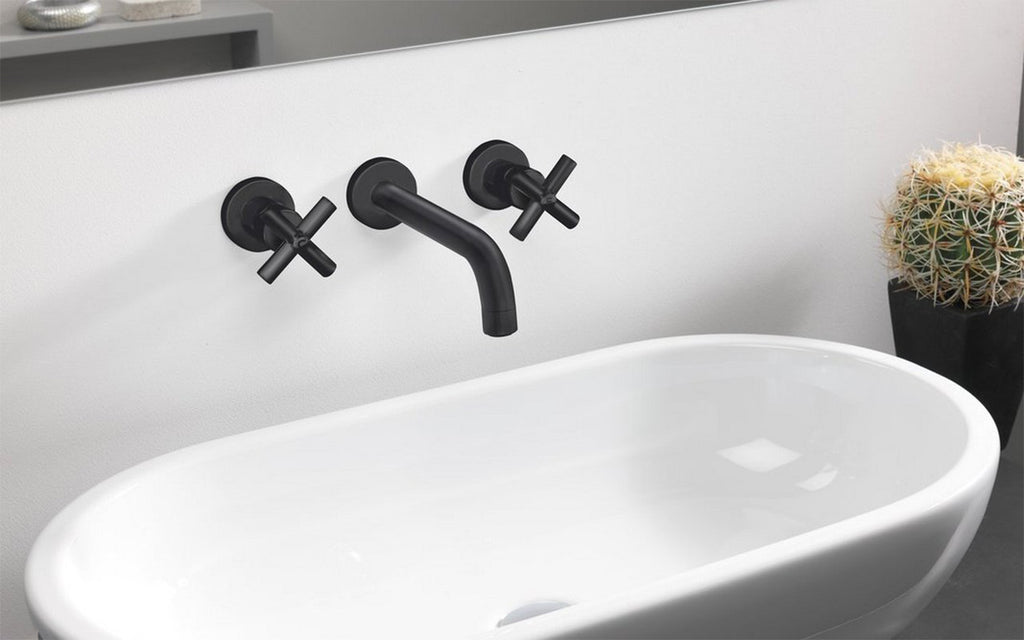 When it comes to bathrooms, most would agree that bigger is better. Dual vanities, stand-alone tubs, and glassed-in showers are just a few of the awe-inspiring design elements that are possible in a large space. Unfortunately, many of us don't have the space for this dream bathroom, but that doesn't mean a small bathroom can't feel equally as luxurious. It's all about smart design. So, whether you're trying to squeeze an extra bathroom into your home, or your current bathroom simply isn't as large as you'd like, these design tips will have it feeling much bigger without adding a single square foot.
1. Switch Up Your Vanity: While the pedestal sink is commonly used in small spaces, it's certainly not the most practical or pleasing to the eye. So, if you're scratching your head trying to figure out how to open up the footprint of your small bathroom, head over to the vanity aisle (or click through to it). One of the best options for a small space is a floating vanity since it allows you to utilize the space underneath for storage, without the bulkiness of a vanity with cupboards or drawers. Another option we adore is a rounded vanity. Not only do pointy vanity corners take up much-needed space, but they can also get in the way. I'm sure we've all hammered our hip bones on a pesky corner at one point or another, so why not eliminate the possibility entirely. You'd be surprised just how much of a difference switching up your vanity can make.
2. Go Bold with Pattern: We know, it might not sound like the best idea, but trust us on this one. Using a big bold pattern in a small space creates the illusion that the space is much bigger. For instance, a bold horizontal stripe can make it feel like your bathroom is longer than it actually is – just don't ask us to explain the science behind it. We'll chalk it up to one of those inexplicable optical illusions and enjoy the "extra" space.
3. Install a Corner Sink: If a floating or rounded vanity still doesn't give you enough space in your teeny little bathroom, consider installing a corner sink. Although it's not a very common design choice, it is without a doubt one of the best uses of space. A corner sink frees up floor space to get in and out of your bathroom while also providing a small bit of storage underneath for your bathroom necessities. Another bonus, they're cute, quirky and something out of the ordinary.
4. Rethink Your Shower: These days everybody wants the biggest shower possible. They've become focal points and showstoppers in the modern bathroom, and we'd be lying if we said we didn't drool over some of the latest designs. However, in a small space, an oversized shower just isn't practical, and the biggest reason is its swinging shower door. The more doors you put in a small space, the more difficult it becomes to maneuver. So, instead of a glass-door shower, consider one with a glass panel instead. This can work for either a stand-alone shower or bathtub/shower combination. Yes, you may have to be a bit careful about splashing, but the panel gives you the same vibe as a fully glassed-in shower without taking up valuable square footage.
5. Buy All of the Mirrors: Okay, not all of the mirrors, but definitely upgrade the one you have. Since mirrors reflect light, they give the illusion that a space is brighter and bigger. Installing a mirror that runs the length of your wall will provide this much-needed light while also eliminating daily fights for morning mirror time. It's a win-win.
6. Install Wall-Mounted Faucets: We've talked about rounded, floating, and corner vanities, but there is one more way to make your vanity work for you in a small space; wall-mounted faucets. Mounting your faucets on the wall allows you to have a shallower sink and vanity, which is a major plus for small bathrooms. An even better bonus? Wall-mounted faucets are all the rage right now, especially brushed-brass and matte-black ones. Run, don't walk to get your hands on one of these gorgeous fixtures.
It is often said that good things come in small packages and while the adage is usually reserved for the jewellery industry, with these tips we think it can be applied to bathrooms as well. Give them a whirl and enjoy the extra elbow room.