Cozy Design Inspiration for Your Cottage Bathroom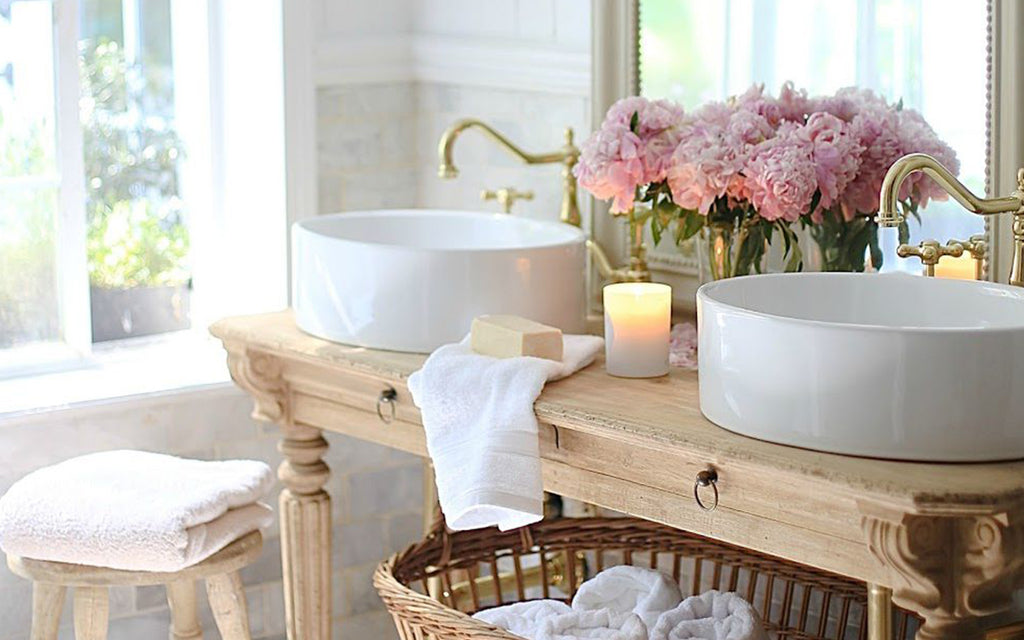 Nothing says summer quite like weekend road trips to the cottage and this year it's truer than ever. As an increasing number of us work-from-home and social distance, we're packing up and heading to the cottage full-time. Unfortunately, a bathroom that's fit for weekend getaways isn't necessarily fit for full-time use and that means it's time for a bathroom makeover. Whether you're completely renovating your bathroom or looking to add a few more comforts of home, we've got the design inspiration for all your cottage bathroom dreams.
Get Inspired by Nature: Being up at the cottage is all about enjoying the beautiful outdoors, so why not bring the outdoors in? The cottage is the perfect place to experiment with natural materials such as stone and wood. Consider a natural stone flooring such as slate to emulate the rustic rock elements that are right outside your door. Paired with local wood accents such as a custom vanity or paneling and you've got the perfect combination (bonus points if the materials are locally sourced). For a more sophisticated take on nature-inspired design, paint out some wooden elements in a muted green or blue. Whether you prefer quaint cottage vibes or upscale lake house elegance, using natural products will bring the outdoors in, in the best way possible.
Embrace Cozy Cottage Vibes: If you're anything like us, you love cozy cottage vibes. Nothing beats warming up in front of a wood burning fireplace or a morning coffee on the dock. That being said, trying to emulate those same cozy vibes in your city home never feels quite the same. So, while you're up at the cottage, embrace it! Lean into rustic design elements that you wouldn't normally use in your home such as beadboard. You can use it on the walls, ceiling, or even wrap outdated furniture in the grooved wood panels. Just be sure not to cover absolutely everything in it, a little goes a long way. We also can't get enough of nautical designs for the cottage (ground-breaking, we know). While some may say it's overdone, when done tastefully it's absolutely to die for! Rather than going overboard with the theme, consider adding small little hints of the sea. Small accessories such as porthole shaped mirrors or nautical-inspired light fixtures can make a big impact without becoming overwhelming. You also can't go wrong by channeling the water when selecting your colour pallet – every bathroom looks good in blue and white.
Install Luxurious Extras: When you're spending most of your time outdoors, you don't need a lot of indoor space, which is why so many cottages are cozy and quaint. And while it's in our nature to always want bigger, having a small bathroom allows you to splurge on luxurious extras while keeping your budget in check. If the footprint of your bathroom is small, consider installing in-floor heating for those cold fall temperatures. Or, if that seems a bit extravagant for the family cottage, consider wall-mounted towel warmers. Although they may not get much use in the middle of summer, you'll be thanking yourself once temperatures start to drop in the fall.
Don't Forget about Function: While cottage interior design does allow for more freedom and creativity than home design, remember to always consider function first. Think about your daily needs before setting any design plans in stone. For instance, at the cottage your family will likely use twice as many towels as at home, so you'll want to ensure you have some extra storage. It's also important to make use of every square inch of space when you're working with a small footprint. Consider installing a sliding barn door in place of your current bathroom door. Not only does this free up space, but it also adds a touch of character to your bathroom design.
They say, "life is better at the cottage" and we can't argue with that, but sometimes cottages are a touch too rustic for our inner city-dweller. Luckily, it just takes a bit of inspiration and creativity to ensure your cottage bathroom provides all the comforts of home – no outhouses allowed!