How to Be the Ultimate Holiday Hostess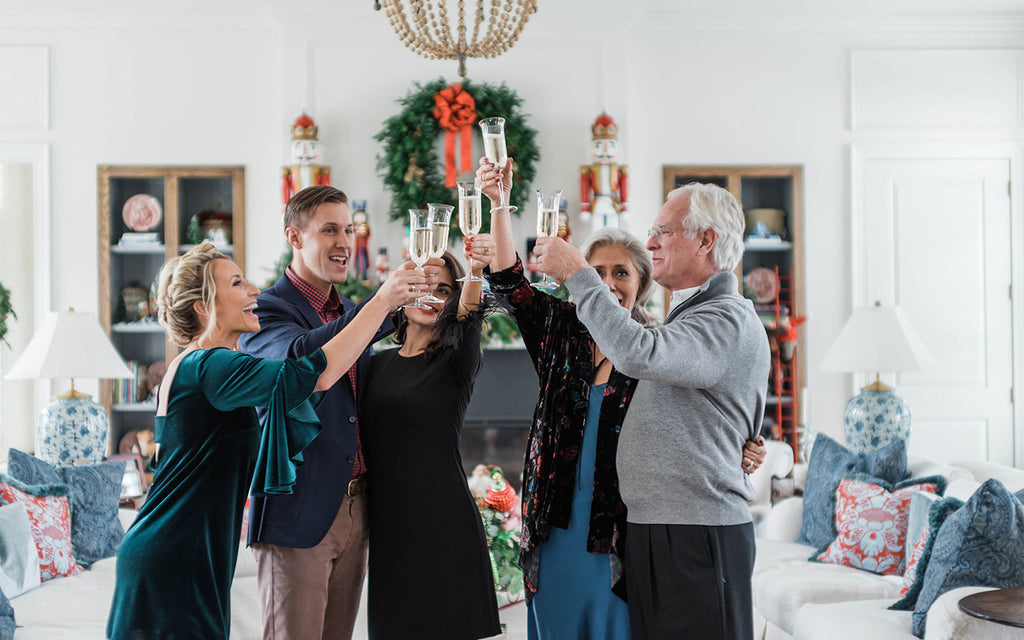 For many of us, preparing for the holidays involves much more than shopping for gifts and decorating our home. It also means hosting guests whether that's our in-laws, extended family, or out-of-town friends. While having everyone under one roof makes the holidays all the merrier, it can feel a bit uncomfortable for those who don't get to spend Christmas in their own home. So, if you want to be the ultimate hostess (even if it's for no other reason than to ensure you don't have to stay at your in-law's condo next year) listen up! We've got five tips that will help you go from a good hostess to a great one.
Freshen Up: This one seems a bit obvious, but it still must be said. Before your guests arrive, make an effort to freshen up your home. Nothing makes guests feel more uncomfortable than having to sleep and bathe in unclean quarters. We know between shopping, meal prepping, decorating, and airport pickups there isn't much time to spare for cleaning, but your guests will really appreciate it. Clean the bathroom, freshen up the guest bedroom, and tidy up the main living spaces so that your guests feel right at home. You may even want to gift yourself our new Toilet Bundle to ensure even the most dreadful of needs (like a toilet squeegee) are well taken care of. Side note: we strongly encourage enlisting the help of spouses and children to help out with the cleaning. Remember, you still have a few days left to play the "Santa's watching you" card. Go all in.
Give the Gift of Comfort: If you really want to WOW your guests or simply don't want your free babysitters to leave, give the gift of comfort. Spring for those extra plush hotel-quality bath towels and bed linens but keep an eye out for sales. If you shop smart, you can spoil your guests and still manage to get everything on your holiday shopping list. Make sure you don't forget to provide an extra place for your guests to hang their towels. If all of your hooks are already taken by family towels or you're short on wall space, consider our ONDA Towel Stand. It's chic, compact and adds a touch of elegance to any bathroom design.
Provide the Necessities: Now that you've impressed your guests with luxurious comfort, make sure you provide them with any basics they may need during their stay as well. Sometimes we just forget things like toothpaste or shampoo. It happens. Luckily, keeping your guest bath stocked with shampoo, conditioner, and body wash is easy with the LINEA Luxury Triple Shower Dispenser. Plus, using a stocked shower dispenser feels a bit less intimate than picking up a half-used bottle of Herbal Essences. Don't ask us why, that's just the way it is.
Go the Extra Mile: What better way to convince the Grandparents to stay an extra week, while you give yourself a much-deserved vacation than to offer them all the conveniences of a hotel? Our Vanity Bundle offers everything you need to make the bathroom function flawlessly. It includes a double-sided wall mount mirror, soap dispenser, hand towel holder, and even a hairdryer holder. Regardless of how low or high maintenance your holiday guests may be, this package will make all their grooming efforts a breeze.
Don't Forget to Breathe: This time of year can be stressful, to say the least. Especially if you are the one (yes, it's usually just one of us) in the family who manages and schedules it all. We see you and we feel you. It can be overwhelming, but just remember to breathe. The holidays are supposed to be a joyful time spent with family and friends. So, even if you burn the turkey or spill red wine all over your new tablecloth, just go with it. When you're relaxed everyone else will be too and that's really what makes a good hostess.