5 Space-Saving Solutions for Your Family RV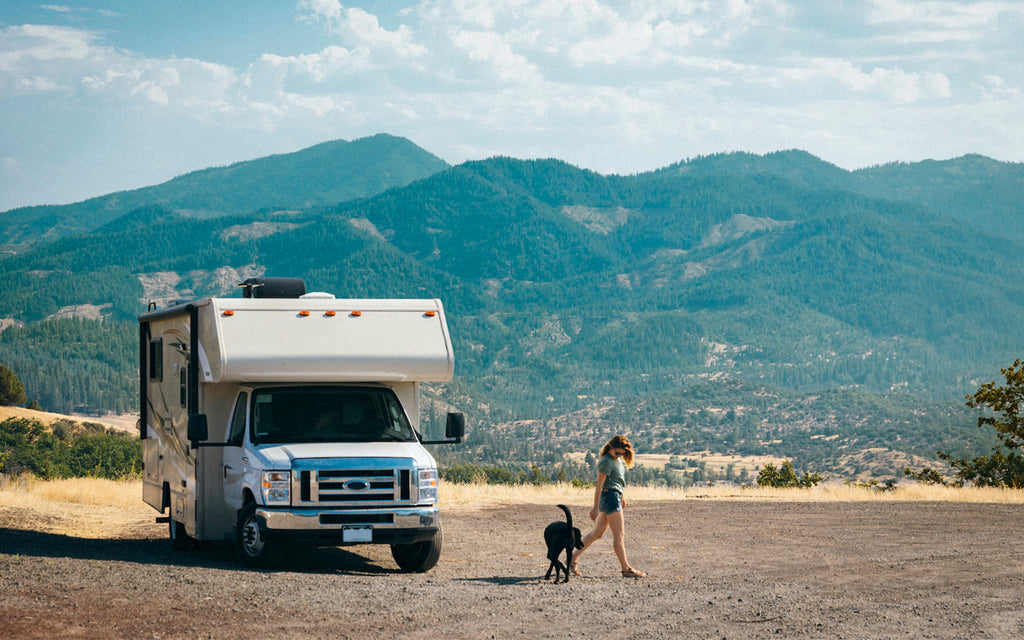 Summer is right around the corner, which means countless families are dusting off their trailers, motor homes, and other recreational vehicles in preparation to hit the road! If you're an RV owner you know that space is limited, which makes organization an absolute must – especially in the bathroom and kitchen. Luckily, we have a few versatile products that work perfectly for the camping life and may even challenge you to up your RV design game!
ULTI-MATE Dispenser 4 Shower Caddy:
Forget about cramming yourself into your tiny RV shower only to kick over countless bottles of shampoo and conditioner because the
ULTI-MATE Dispenser 4 Shower Caddy
does it all! It holds and dispenses up to four liquids and comes fully equipped with a top shelf, soap dish, and hooks making it the perfect solution for families struggling with an overload of products. And like all of our products, this dispenser easily installs (without tools) in minutes so you can get back to enjoying your well-deserved vacation.
CLEAR CHOICE Soap Dispenser:
 Since RVs are typically short on counter space, we also love the idea of adding a wall-mounted dispenser such as our
CLEAR CHOICE Soap Dispenser
near the sink. Its compact and translucent design allows you to free up space and easily see when it needs to be refilled. Plus, since it's wall-mounted you don't have to worry about your soap flying off of the counter when you find yourself making a hard turn towards the first Starbucks you've seen in miles.
CLEVER Soap Dispenser:
If you thought our products were designed exclusively for bathroom use, think again. Our wall-mounted soap dispensers are a great space-saving solution for kitchens with limited counter space too! Our
CLEVER Soap Dispenser
is a great choice for kitchen use thanks to its modern design and easy-to-use functionality. Simply install it in minutes, add your choice of dish or hand soap, and enjoy the extra counter space. The included hooks provide additional storage space for hanging dish cloths or cleaning accessories. 
TOUCHLESS XL Soap & Sanitizer Dispenser:
Whether you are camping with your kids or fur babies, things are bound to get messy and it's always nice to keep some messes outside. While we can't help you install an outdoor shower (though we wish we could), we can recommend a soap/sanitizer dispenser to park on your outdoor picnic area. Our
TOUCHLESS XL Soap & Sanitizer Dispenser
dispenses the perfect amount of soap or sanitizer without any contact, ensuring everyone that enters your RV has germ-free hands. All you need are four AA batteries and your favourite soap or sanitizer and you're good to go! Who said camping means you have to get dirty?
KROMA STICK N LOCK+ Double Robe Hook:
Since Summer camping usually entails as much swimming as possible, you may want to consider adding some extra hooks in your RV too. Our
KROMA STICK N LOCK+ Double Robe Hooks
are a great way to hang dry your swimsuit and beach towel. Grab one for each family member and wave goodbye to wet beach towels lining your RV floor – well, we can all dream about it at least, right?
Whether you're heading to the mountains, the lake, or beyond it's always reassuring to have a few space-saving solutions that won't topple over while you're on the road. Less mess means less stress and more time for relaxing and spending quality time with the family. Happy camping!