5 Ways to Freshen Up Your Bathroom for Summer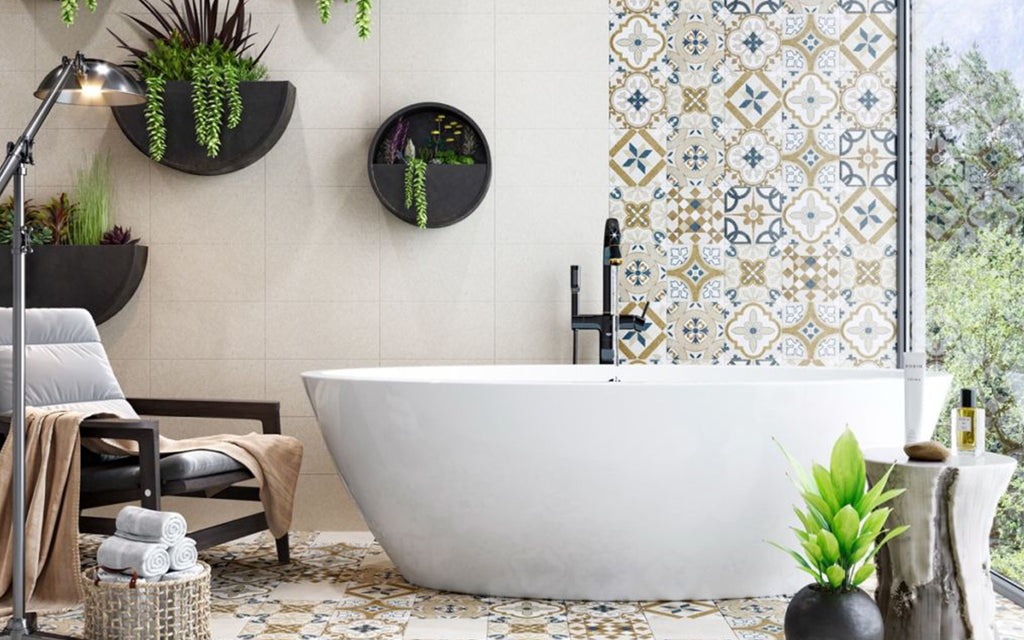 We made it – summer is officially here! The days are longer, the nights are brighter, and everyone seems to be happier. For us, it's definitely the most wonderful time of the year (sorry Santa). Since many of us might not be getting the summer we were envisioning this year, we thought it would be a great time to share our top tips for freshening up your bathroom for summer. We know it won't make up for your cancelled Caribbean vacation, but it couldn't hurt, right?
1) Give it a Fresh Coat of Paint: Nothing brightens up a room quite like a fresh coat of paint. It's one of the most cost-effective ways to transform any room in your home. Since most painted walls start to lose their lustre after the first few years, it's a good idea to routinely repaint and summer is the perfect time to try out a brighter colour pallet. That being said, if you still love the current colour of your bathroom, a fresh coat will still be transformational. So, if you've got a spare weekend, grab your paintbrush and get to work. You won't be disappointed when you step into your freshly painted space.
2) Declutter & Deep Clean: Even with all of the extra time spent at home this spring, we'd be lying if we said our bathrooms are in tip-top shape. As a frequently used space, it can be nearly impossible to keep clean and clutter-free. If you're itching for a bathroom refresh but aren't quite sure where to begin, start with the basics – a declutter and deep clean. You may be surprised just how much space you can clear out by eliminating old or unused bathroom products. It may even inspire you to refresh your beauty routine with some summery new products, but we'll leave that up to you.
3) Bring the Outdoors In: You know that tingle of excitement you get when you see the first flowers of spring start to pop up outside? Well, we get just as excited about indoor plants. While the aesthetics of florals are obvious, we also love the air-purifying qualities that many of them provide. It's not often that something so beautiful is also good for your health, so take advantage of it and use them as part of your bathroom design. While flowers are an obvious choice, they have a short lifespan which is why we're a bit partial to greenery. One of our favourite ways to incorporate greenery into the bathroom is with a hanging installation above the bathtub. It may sound a bit odd, but when you look up and see all the cascading greenery, you'll feel like you're bathing in a natural spring and it doesn't get much more summery than that!
4) Replace the Outdated: This one is a bit obvious but still must be said. Even if you can't afford to replace all of the outdated fixtures in your bathroom, replacing a few key ones can make a world of a difference. You'll get the most bang for your buck by replacing outdated faucets, shower-heads, and cabinet hardware. Try out some bold black fixtures for a modern touch, or brushed copper for mid-century modern vibes.
5) Have Fun with Accessories: Accessories are where you can get creative since they're typically inexpensive and can be swapped out seasonally. When it comes to seasonal design our motto is always 'less is more', but that doesn't mean you can't bring in some summer fun. One of our favourite ways to brighten up the bathroom for summer is by bringing in new hand towels and colour-coordinated accessories. For tropical vibes, you can't go wrong with some fresh greenery and turquoise accents. If that's not your thing we love a bathroom with desert vibes, especially a white one. Add in a few pops of green, cacti, and some sandy tones and you'll be feeling the Arizona vibes every time you step into your bathroom.
While this summer may not look exactly like those of the past, we can still find little ways to enjoy the season. Sprinkle your home with a bit of summer sunshine to make the absolute most of our favourite time of the year – it always passes quicker than you think!