6 Affordable Ways to Update your Bathroom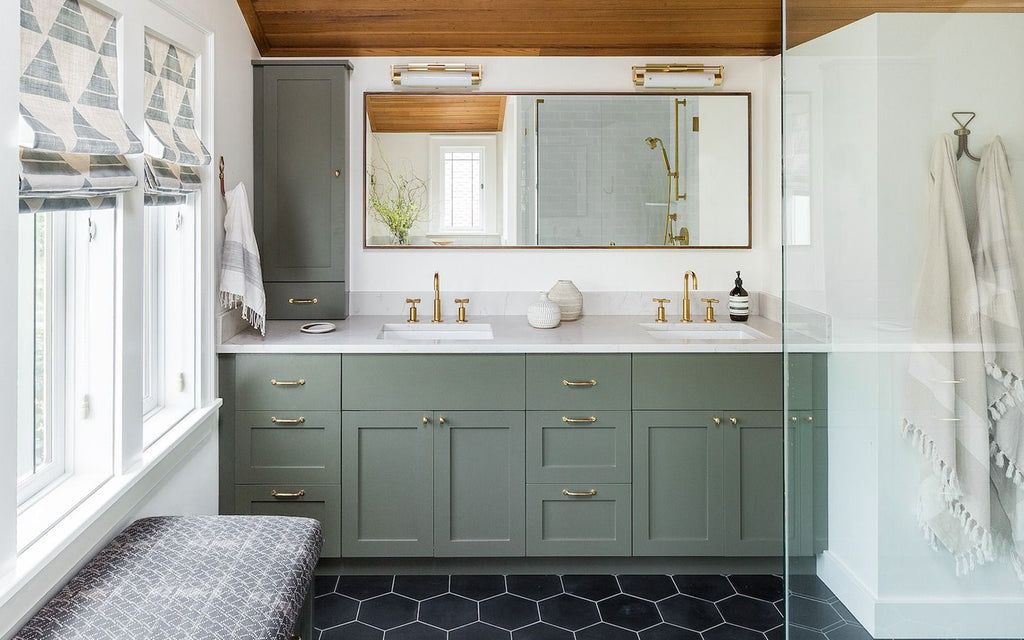 Along with kitchens, bathroom renovations are one of the biggest expenses a homeowner can undertake. With expensive fixtures and complicated plumbing, it makes sense that costs quickly add up, but that doesn't mean you can't create a stunning bathroom on a budget.
These affordable bathroom upgrades will help you transform your bathroom while leaving a little extra cash in your pocket for your next home project.

1) Update the Finishes: If you're working with old brass or silver fixtures, simply replacing them with something modern can have a massive impact on your overall bathroom design. We love the way black fixtures pop against white porcelain fixtures. The stark contrast instantly adds a touch of modern sophistication to an otherwise outdated space.
2) Peel and Stick Tiles: While peel and stick flooring and backsplash options of the past have been tacky, to say the least, modern peel and stick options have come a long way – you can even get peel and stick white subway tile! Whether you want to replace an outdated tile backsplash or cover up your builder-grade linoleum flooring, there's a peel and stick option for you. Although we may have shuttered at the thought of peel and stick tile, once we explored the options we were blown away. It's one of the best bathroom upgrades when it comes to bang for your buck – so give it a shot!
3) Add a Feature Wall: Along the lines of peel and stick tile, is removable wallpaper, which is one of our favorite renter-friendly upgrades. When utilized as a feature wall, this upgrade packs a punch and can completely transform your existing bathroom design. While the options are endless, we are a bit partial to the calming and eclectic nature of a botanical print in the bathroom. Or, for those who prefer a bolder statement, an abstract tropical feature wall is totally on-trend for 2021.
4) Replace your Vanity: This option is great if you want to make a big change but aren't very good at DIY upgrades – we can't all be Martha Stewart after all! Eliminating a builder-grade pedestal sink will automatically elevate your space in terms of design and functionality. For the best pricing, check out your local hardware store. They often have beautiful options for every budget and can even give you some tips on installation!
5) Add Some Visual Interest: Adding a bit of visual interest can go a long way in the bathroom. Just be careful to choose materials that can accommodate a bit of moisture to ensure your design choices last! Generally speaking, art prints or photographs that are framed will be able to withstand the humidity as the art itself is protected by the sealed back. If art isn't your thing or you have limited wall space, try adding in a plant or two! Not only do plants add a bit of visual interest, but they help filter out pollutants in the air – making your bathroom safer and more beautiful!
6) Upgrade Your Mirrors: Upgrading your bathroom mirrors can also massively elevate your design and are relatively inexpensive to replace. Most homes come with large, borderless, builder-grade mirrors that don't really add anything to the design of your space. When replaced with a bold modern piece or a vintage find, it can instantly elevate the look of your bathroom to that of a luxury lobby hotel – and who doesn't want that?
While the costs of a bathroom renovation can quickly add up, it is possible to get the bathroom of your dreams at a fraction of the price – as long as you make smart choices and don't mind a little DIY!