6 Bathroom Trends We Can't Wait to See in 2022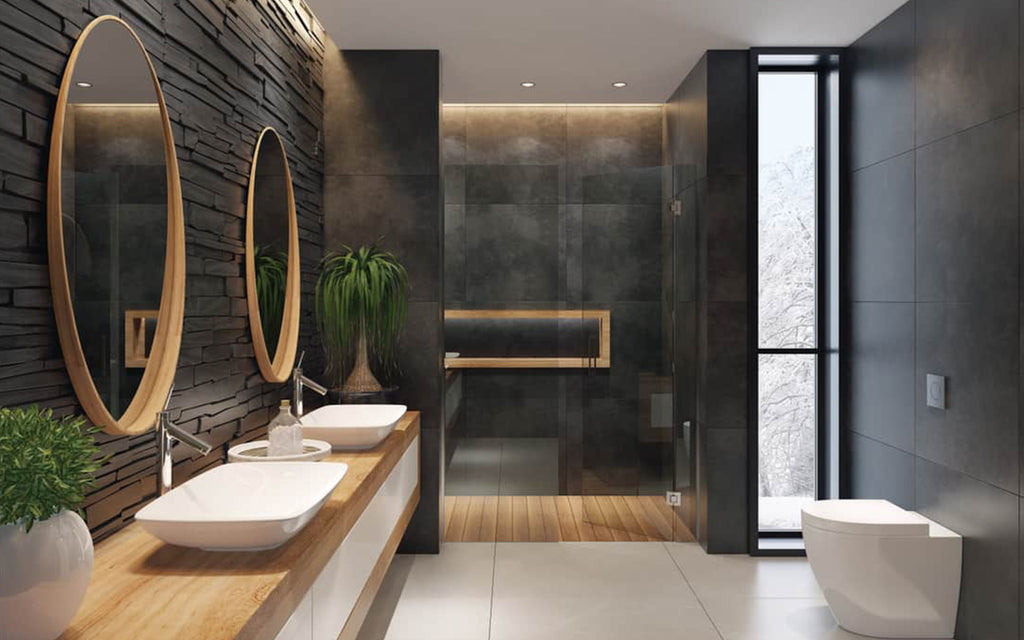 With just a couple short weeks left in 2021, many of us are thinking about the New Year and what it will have in store for us. While no one can predict their future with absolute certainty, anticipating future design trends is a bit of a safer bet. If you're planning a bathroom renovation in the New Year or simply looking to update your accessories, keep this list on hand to ensure your bathroom is on-trend for 2022!
Organic Style & Plenty of Greenery: Modern design may have dominated bathroom spaces in years past, but this year we saw a shift towards more natural finishes. In 2022, this earthy and organic style is expected to grow, which means we'll be seeing lots of natural materials (wood and stone), earthy colors (sage and sand), and plenty of plants to go along with it. In line with this trend, the demand for more natural light in the form of skylights will expand into 2022 as homeowners seek additional ways to bring the outdoors in.
Multipurpose Spaces & Storage: As we continued to spend more time at home this past year, our spaces needed to be more multifunctional than ever before, and this trend will dominate bathroom redesigns in 2022. We expect to see bathrooms open up, both in terms of space and functionality. Not only will homeowners be opting for multipurpose storage solutions like built-in linen closets and shelving units, but we'll also see the bathroom itself expand to include dressing rooms, closets, and even laundry rooms. While it may seem like a lot to include in one area, with an open floor plan this type of design can be an efficient and convenient use of space – both of which are top priorities for the modern homeowner.
Integrated Technology & Smart Fixtures: Each year, we continue to see more smart bathroom fixtures come to market. This includes anything from touchless faucets to smart toilets and everything in between. As homeowners strive to make their homes run seamlessly, integrated technology will continue growing into the new year. High-end bathroom designs will include wall-mounted interfaces, so that everything from water temperature to music selection can be controlled with the touch of a button or voice activation.
Wet Rooms & Walk-In Showers: Again, this trend involves opening up space to make things feel larger, specifically our showers. While the standalone tub was once the most coveted fixture in bathroom design, many are forgoing baths altogether in favor of expansive wet rooms, walk-in showers, and plenty of glass. When paired with patterned tile work or a feature wall, this trend can drastically transform a relatively small space into an open and airy work of art.
Mixing Textures and Styles: Although modern finishes will always be an aspect of bathroom design, mixing textures and styles in the name of sustainability will be an overarching trend in 2022. This means we'll be seeing modern fixtures like sleek, wall-mounted faucets paired with contrasting items like upcycled vintage vanities. It's all about mixing and matching items and embracing your one-of-a-kind space!
Opting for Personal Preference: The last design trend for 2022 has arisen from the excessive amount of time we've spent in our homes over the past two years. Homeowners no longer feel the need to dedicate entire areas of their homes for occasions that rarely take place. Instead, they are choosing to forgo the norm in favor of design choices that work best for them. As a result, we'll be seeing fewer guest bathrooms and more expansive main ensuites. While that may mean the occasional overnight guest has to use your main shower, if it gives you twice the size every other day of the year, does it really even matter?
Although our bathrooms shouldn't (and financially couldn't) change along with every new trend, ensuring your home's décor isn't completely stuck in the past will always help your resale value — and getting your money's worth never goes out of style!