5 Cozy Ways to Decorate Your Bathroom for the Holidays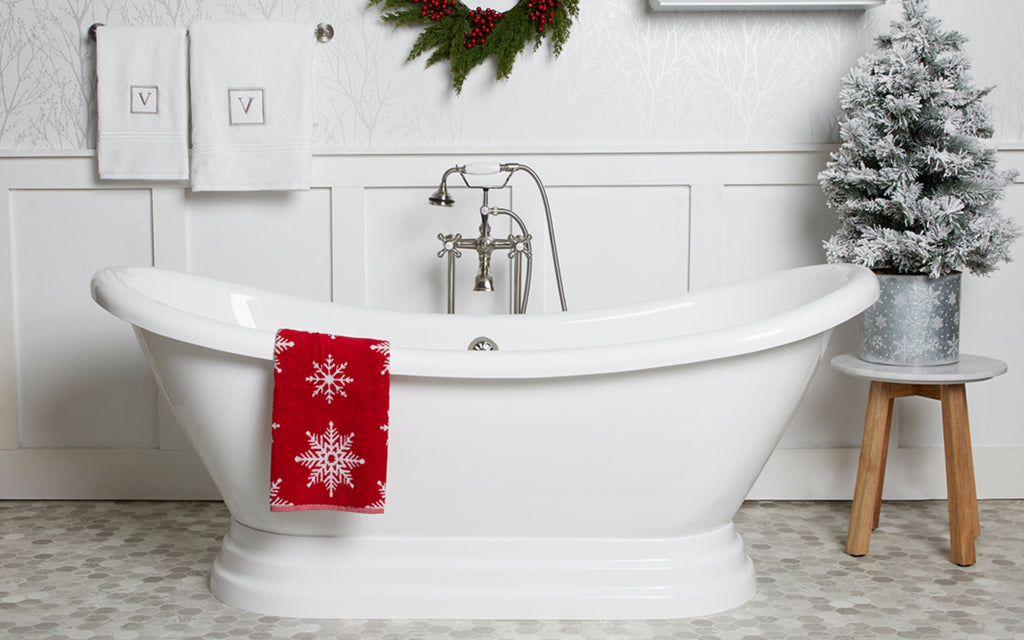 It's official, the holiday season is upon us, and redecorating with accompanying festive flair is in full swing! Although we love sprucing up our homes as much as (if not more than) the next person, decorating for the holidays can sometimes feel like an Olympic sport. With endless options and new trends popping up each year, it can be a bit overwhelming, especially if you are hosting guests for the holidays too. But, not decorating at all can make you a bit of a Grinch, so as our gift to you this holiday season, here are five easy ways to add the coziness of Christmas to your bathroom décor — minimal effort required!
Freshen Up with Foliage: It's difficult to imagine the holiday season without the crispness of winter and the intoxicating scent of fresh pine trees. There truly is no cozier feeling than curling up in front of a Christmas tree and you can easily spread that feeling throughout your home with a bit of fresh foliage. While we'd personally love to place a Christmas tree in every corner of our homes, fresh wreaths mimic the vibe without taking up quite as much space. Traditionally, wreaths have been pigeonholed as front door décor, but why stop there? You can instantly transform your bathroom into a cozy holiday retreat by hanging a wreath on your bathroom mirror. It may sound a bit odd but trust us, it's the perfect way to add fresh festive vibes to your bathroom décor.
Swap Out Your Wall Art: If you're short on time or money, the easiest way to update your bathroom for the holidays is to swap out the artwork. Most home décor stores have loads of festive holiday pieces or cheerful signs to incorporate into your holiday décor. Alternatively, you could get creative and make your own, with little more than a can of sparkly spray paint, a stencil, and your choice of canvas. It's also easy to swap out existing decor pieces with inexpensive holiday items like a glass vase filled with pinecones. Enlist your kids to go gather some from your local park and you've scored yourself free décor and a few childless hours — talk about a gift that keeps on giving!
Focus on the Fluff: The holidays are all about being cozy and nothing is cozier than fresh, fluffy towels. While your inclination may be to buy brand new towels for holiday guests, you can easily make your existing towels feel good as new by slightly altering the way you wash them. Firstly, you'll want to cut back on the amount of detergent as a build-up of soapy residue can cause your towels to feel stiff. Then, when you go to wash your towels, add half a cup of baking soda with your laundry detergent and wash in warm water. The baking soda helps to loosen up the fibres, remove built-up grime, and eliminate any lingering odours. Now, before you move them over to the dryer, run another cycle with just vinegar to remove any leftover soapy residue, pop them in the dryer and that's it — your towels should feel (and smell) good as new!
Add Some Warmth: Staying warm inside while it's frosty outside is one of the coziest aspects of the holiday season, so let's make sure your bathroom doesn't emulate the temperature at the north pole. If you are lucky enough to have in-floor heating or a heated towel rack, turn it on prior to your guests arriving to keep the cozy vibes flowing throughout the entire house. In lieu of this luxury, a couple of festive candles will add a surprising amount of warmth and ambience to a small space like your bathroom.
Incorporate Festive Scents: Of course, the holiday season wouldn't feel right without the accompanying scents of baked cookies, mulled wine, or fresh pine. It doesn't matter which scent you prefer; we can almost guarantee that you'll be able to find it in a candle, essential oil, or soap. If DIY is more your style, gather up your kids and make your own Christmas candle — it's easier than you might think, and makes the perfect holiday gift too!
Whether you are hosting extended family or friends this holiday season, adding a few festive touches goes a long way towards making your house feel just like home. Happy Holidays!