Choosing the Right Finish: Bathroom Dispenser Edition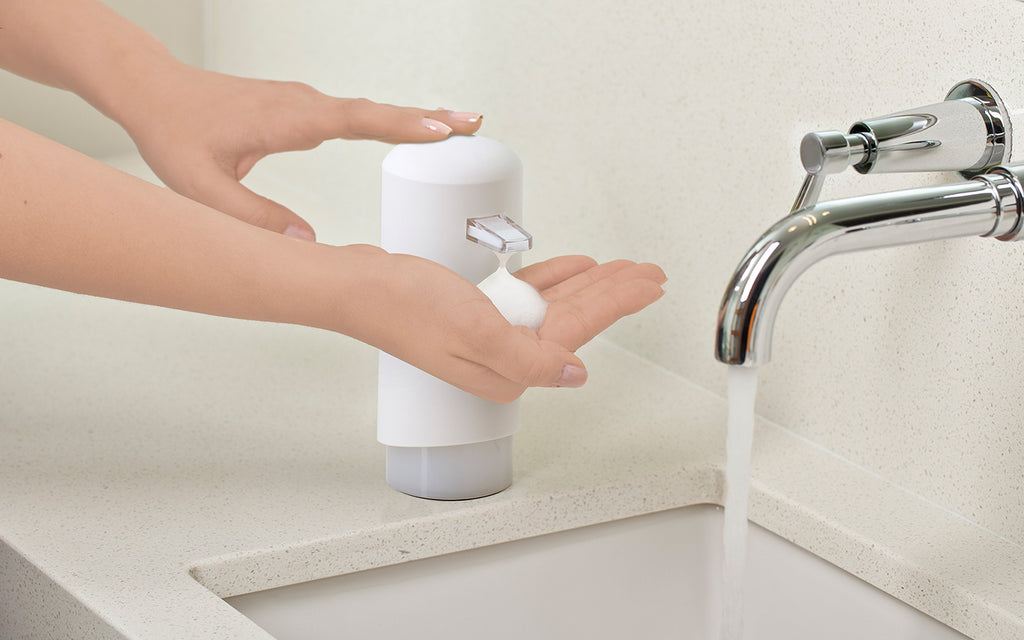 When it comes to shopping for a bathroom dispenser, it's important to select a finish that complements your existing bathroom design. Choosing the wrong finish can make your new dispenser stand out – and not in a good way. At Better Living, we know that everyone has their own unique style, which is why our lineup of dispensers are available in seven different finishes. Although we truly believe that there's no wrong choice amongst our carefully curated finishes, some will naturally suit your bathroom design better than others. So, before you give the gift of organization this holiday season (whether to yourself or someone else), read on to find out more about our finishes to ensure the perfect pairing!
Black, White & Grey:
Let's start with the basics. Whether it's a little black dress or a modern bathroom fixture, you simply can't go wrong with black. It's classic, sleek, and modern, which means it will coordinate with virtually any bathroom décor. Regardless of whether you want your dispenser to stand out in a sea of white or blend in with existing black accents, our black
CLEVER Shower Dispenser
and
FOAMING Soap Dispenser
have you covered.
If you'd prefer your dispenser to blend into its surroundings, our white options may be more up your alley. Available in our
CLASSIC
, CLEVER,
ULTI-MATE
,
UNO/DUO/TRIO
,
CLEAR CHOICE
, and FOAMING models, white dispensers seamlessly blend in with your existing white fixtures and finishes. An added bonus of selecting a white model is that it conveniently hides any residual soap scum, so you can clean less and still enjoy a sleek, modern design.
The last in our line of neutrals is grey, an ideal middle ground if you're having a hard time choosing between black and white. While not as bold as black, our FOAMING Soap Dispenser in grey provides a pop of contrast without blending into the background. When paired with a crisp white countertop, it's one of our absolute favourite combinations!
Brushed Nickel, Satin Silver, Satin Nickel & Chrome:
Next up, we have our dazzlers; brushed nickel, satin silver, satin nickel, and chrome. Although they may all sound similar, we can assure you that they have subtle differences that can make a big difference in your bathroom design.
Our brushed nickel finish is exclusively available in our
LINEA Luxury Dispenser
line. This high-end, muted nickel finish mimics the luxurious design of the LINEA and naturally elevates your shower experience with spa-like vibes.
While our satin silver and nickel finishes are comparable, we like to think of satin silver as the quieter, more muted cousin of satin nickel. Our satin nickel finish is a bit shinier, but not quite as flashy as chrome. So, if you're debating between satin silver and chrome, satin nickel is the perfect combination of the two. Our
AVIVA
and UNO/DUO/TRIO dispensers are available in satin silver, while our satin nickel finish is exclusively part of our ULTI-MATE dispenser line.
In contrast to its subtle cousins, chrome is definitely the attention seeker of all the Better Living finishes. Its high-gloss, appliance-like sheen is available in our AVIVA, CLEAR CHOICE, and UNO/DUO/TRIO dispenser lines. Much like stainless-steel appliances, our chrome dispensers complement every bathroom design. Even if your bathroom is tired and outdated, a little bling can bring it back into the 21st century.
Whether you're a fan of neutrals or prefer a bit sheen, we've got you covered. Our carefully curated selection of dispensers provides convenient organization without compromising on style. It's the gift that keeps on giving!